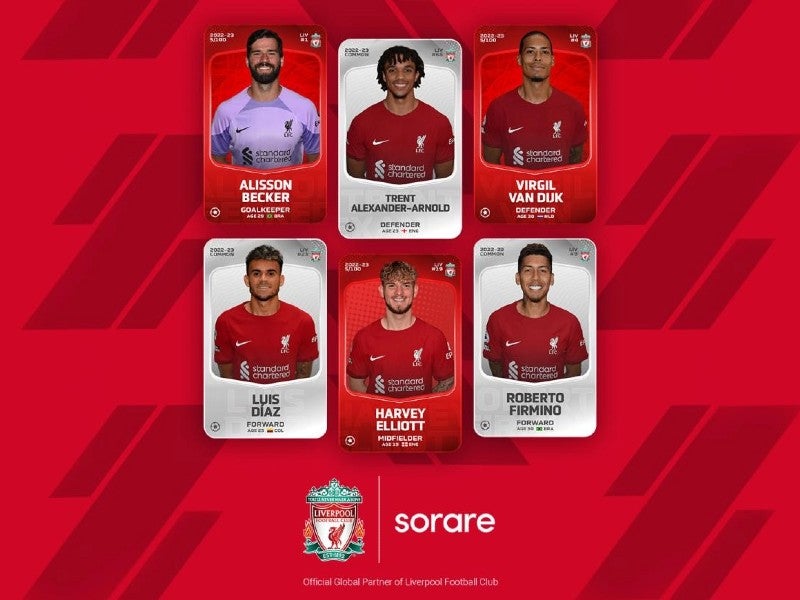 English soccer giants Liverpool have deepened their ties with the cryptocurrency market through an expanded partnership with French blockchain-based fantasy engagement platform Sorare.
The expansion will see Sorare, which operates player-owed fantasy sports games that issue virtual collectible cards as non-fungible tokens (NFTs), work with the club on "multimedia fan content and release new experiences for fans and Sorare's managers".
The new deal will also see perks introduced including stadium visits to Anfield, match day experiences, merchandise, and video content being offered as prizes for winners of the online game.
Liverpool's commercial director Ben Latty said: "At Liverpool Football Club, we're always striving to pioneer new technologies for our supporters, with the aim of enhancing their fan experience and making them feel as connected as possible to this club."
Liverpool first teamed up with Sorare last year, launching digital cards of first-team players on Sorare's platform.
The French-based platform essentially operates a soccer trading card game in which individual cards are digital products that increase or decrease value based on real-world performances.
The cards are tradeable with other players of the game and can be sold on the marketplace, giving the leagues a new revenue stream. Some, such as the Cristiano Ronaldo card, have sold for more than $100,000.
The average sale price of a Sorare NFT in August was $86.14, down from a peak of around $280 in March last year, according to market tracker CryptoSlam.
The deal is the latest in a series of milestones for Sorare, which now has over 2 million users worldwide and more than 280 partnering sports organizations, including Spain's LaLiga, Germany's Bundesliga, Italy's Serie A, and the US Major League Baseball.
At the end of June, French soccer superstar Kylian Mbappe became Sorare's first player ambassador through a long-term deal that also sees the Paris Saint-Germain striker invest in the platform.
The 23-year-old was named as an investor in the platform, joining other high-profile athletes who are already investors and advisors to the firm including Serena Williams, Gerard Piqué, and Rio Ferdinand.
Meanwhile, newly promoted Premier League side Fulham have partnered with bookmaker Fitzdares.
Under the deal, Fitzdares becomes the club's official betting partner in the UK and will launch a series of activations and messaging.
Additionally, Fitzdare's exclusive members-only club in Mayfair, The Fitzdares Club, will show Fulham FC games live.
Jon Don-Carolis, Fulham FC sales director, said: "Our organizations are proud of our heritage and embrace innovation whilst providing a closer and more personal experience for our fans and audiences.
"An aligned partnership between the world's oldest bookmakers and London's original football club is poised to deliver a range of exciting and creative initiatives throughout the season."
Elsewhere, German football club Bayer Leverkusen have announced a new sponsorship deal with online gaming brand Strikerz Inc.
Strikerz Inc. is due to release its free-to-play online game UFL on PlayStation 4, PlayStation 5, Xbox One, Xbox Series X, and Series S next year.
As part of its deal with the Bundesliga club, Strikerz Inc. will acquire a licensing agreement over the use of the club's images and videos.
Over the last year, Strikerz Inc. has announced partnerships with Premier League side West Ham United, Germany's Borussia Mönchengladbach, France's AS Monaco, and Turkey's Beşiktaş JK, as well as licensing agreements with Portugal's Sporting CP and Ukraine's Shakhtar Donetsk.