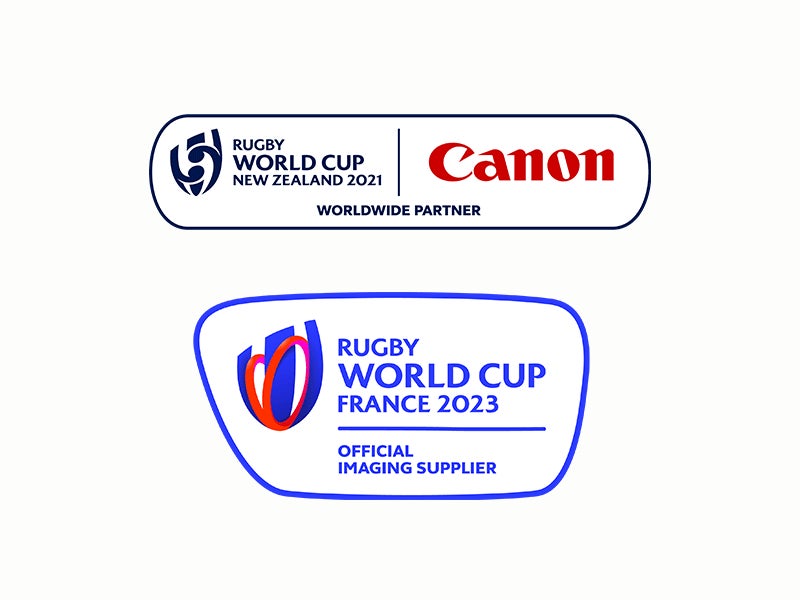 Canon, the Japanese photography and imaging equipment manufacturer, has struck a new deal with World Rugby that will see it partner with the delayed 2021 edition of the women's Rugby World Cup premier rugby union national teams competition in New Zealand and the 2023 edition of the men's tournament in France.
The agreement, announced today (June 27), amounts to an extension of an existing relationship, with Canon having sponsored the men's tournaments in 2019 – in its home market of Japan – and 2015, when the World Cup in England was its first involvement with the prestigious event.
It will see Canon support the women's edition of the tournament for the first time when New Zealand 2021 finally takes place later this year (October 8 to November 12) having been postponed due to the coronavirus pandemic.
The brand will serve as a worldwide partner for the event, as well as the official imaging partner and official camera partner.
Canon says this reflects its "alignment with World Rugby's commitment to accelerating the advancement of gender equality globally".
Its involvement with France 2023, meanwhile, sees it become the fourth Japanese brand in the tournament's commercial portfolio after Asahi, Mitsubishi Electric, and Taisho Pharmaceutical through its Lipovitan brand.
For that tournament, which will run from September 8 to October 28, 2023, Canon is again designated the official imaging supplier.
For both events, it will offer the support of its various businesses, including services to members of the media who will be capturing the action.
Earlier this month, Land Rover was named a worldwide partner of New Zealand 2021 following the other recent addition of Mediaworks. The tournament's other top-tier worldwide partners are Mastercard, DHL, and Capgemini.
France 2023, has added Aramis Rugby, Koesio, France Pare-Brise, and Sage to its partnership portfolio in recent months. In addition to Mastercard, Land Rover, and Asahi, its worldwide partners are Societe Generale and Capgemini.
In May, meanwhile, World Rugby confirmed that the US will host World Cups for the first time ever over the next 11 years, as well as Australia and England as hosts for upcoming editions of the tournaments.
Fujio Mitarai, chairman and chief executive of Canon, said: "I am delighted that we have been granted this opportunity to support both the men's and women's tournaments.
"In addition to supporting professional photographers and news media as they capture the intense action of the world's top teams facing off in peak condition, Canon will do its utmost to support World Rugby, the owner of both tournaments, as well as the organizing committees, relevant authorities, local government, and other corporate sponsors."
Alan Gilpin, chief executive of World Rugby, added: "Having recently confirmed both men's and women's editions of Rugby World Cup up until 2033, there couldn't be a more pivotal time to welcome Canon on board. Their relentless focus on innovation echoes our vision to make rugby as relevant and accessible as possible and their support will accelerate the development of our sport across the globe.
"We have had the great pleasure of working with Canon for a number of years and we are very proud to be continuing our long-standing relationship for Rugby World Cups 2021 and 2023. Canon shares our passion for driving gender parity across the game and we are delighted to be welcoming them to the partner family for the pinnacle women's 15s tournament that kicks off in New Zealand later this year."