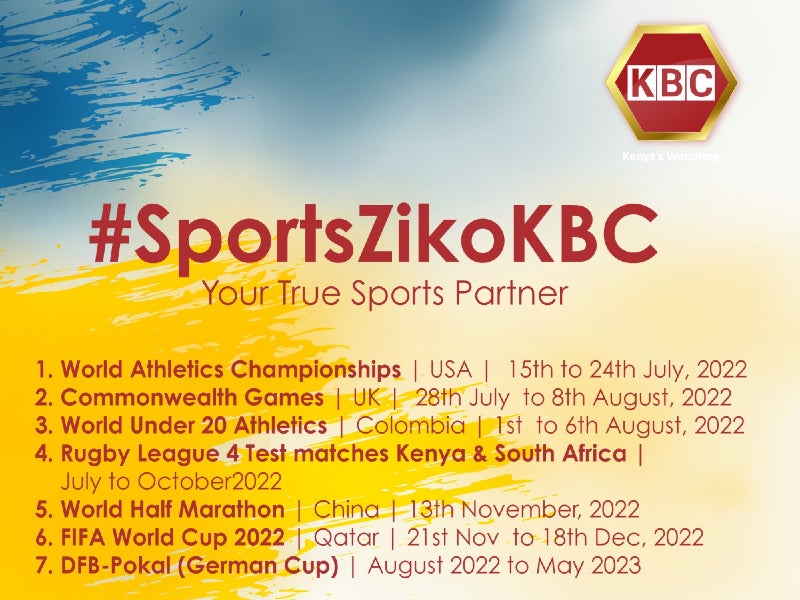 Keyna Broadcasting Corporation (KBC), the country's public-service broadcaster, has secured free-to-air (FTA) rights in the country to several sports events as it looks to expand its audience base.
Rights added to KBC's portfolio include soccer's flagship FIFA World Cup in Qatar, basketball's FIBA's Africa World Cup qualifiers in Egypt, Rugby League 3 Test matches between Kenya and South Africa, the World Half Marathon in China, and DFP Pokal in Germany.
The new events add to the broadcasters' rights which also include the 2022 World Athletics Championship in Eugene, the 2022 Commonwealth Games in Birmingham, UK, and the 2022 World Athletics U20 Championships in Colombia.
Unveiling KBC Sports' new line-up yesterday (June 20), Joe Mucheru, ITC, Innovation, and Youth Affairs cabinet minister, said the broadcaster made a significant investment to expand its audience base given that many Kenyans were struggling to access the content due to high charges levied by service providers.
He added the programs would promote local talent, with Kenyan teams to be covered extensively.
Mucheru said: "Sports has the power to unite. Kenyans will surely come together to enjoy the sporting events. Famous sportsmen and women locally and internationally will be beamed live across KBC channels.
"I applaud the management and board of directors of KBC for the efforts in ensuring that you acquire these exclusive broadcast rights, and let Kenyans know that you have what it takes to provide their content needs."
KBC secured events organized by World Athletics in December in a two-year deal struck with TV Media Sport (TVMS), the France-based agency and long-time free-to-air media rights partner of World Athletics in sub-Saharan Africa.
The agreement covers a total of nine events including the World Indoor Championships and World Championships in 2022 and 2023, as well as the World Relay Championships and World Athletics Road Running Championships in 2023.
Earlier this year, the broadcaster also acquired exclusive free-to-air rights to this year's Commonwealth Games, which was also struck with TVMS. The event will be shown on the main KBC channel 1 in Kenya from July 28 until August 8.
Samuel Maina, KBC acting managing director, said: "We requested our government to increase our budgetary allocation to enable us to continue transforming our national broadcaster in line with the modern trends for improved service delivery.
"As KBC, we appreciate the government of His Excellency President Uhuru Kenyatta for the continued support accorded to the national broadcaster over the years to improve our capacity in all our broadcasting activities, as well as in improving the welfare of our staff."