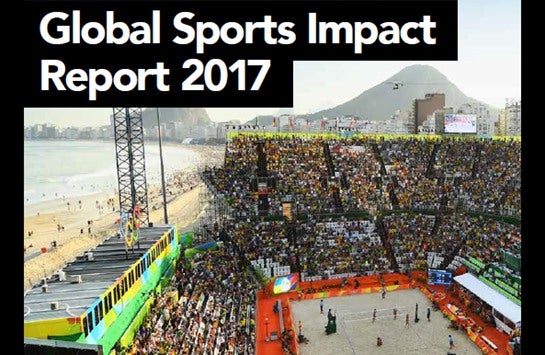 Packed with insight and analysis, the GSI Report is an essential tool for governing bodies, rights holders, event organisers, government agencies, NGO's, sponsors, broadcasters and service providers.
This year's report takes in four years of analysis from 2013 through to 2016, including a specific focus on the events of 2016 across a number of topics, including;
Event Hosting and Bidding
Economic Impact
Sport Tourism
Sporting Impact
Event Analysis
Economic Impact
Economics of the Olympic Games
The economic impact of the Olympic Games is a hotly contested topic and due to the sheer size and scale of the mega-event, is often complex to quantify. Pre-event impact estimates can often be used to justify public spending and accelerate infrastructure projects within a host city. However, citizens around the world are now better informed and have access to a wealth of information, especially through digital platforms, making it increasingly difficult for decision-makers to justify the case for spending vast amounts of public money on sports events.
The costs faced by host cities when hosting an Olympic Games, as well as the returns that can be expected, are explored in the GSI Report 2017.
Economic Impact
Economic Attendance
More than 16 million spectators attended the 65 multisport games, world and continental championships analysed during 2016
This makes up 29.4% of the 54,392,673 spectators that attended 317 events across the 2013-16 Olympic cycle
In addition, during the 2015-16 and 2016 seasons, analysis of 70 of the world's leading sports properties were attended by more than 505 million spectators
The evidence suggests a strong attraction remains for watching sports events live with the concept of the fan experience becoming increasingly important. This comes despite advances in technology, home viewing and digital platforms.
Of the 70 additional global sports properties analysed, more than 505 million people attended during the 2015-16/2016 season. However, there was a slight decline (0.27%) in attendance across the 56 properties that could be analysed against their previous season's attendance.
Sport Tourism
Sport Tourism continues to be one of the fastest growing sectors of global tourism.
The GSI Report has established an industry-leading methodology for calculating the number of bed nights an event generates from participants and media in order to analyse the tourism impact from an event before a single ticket is even sold. This methodology is used in turn to help event owners better understand the baseline economic impact of their events, and helps hosts calculate a projected direct economic impact of potential or newly acquired events.
The 70 world championships and multisport games in 2016 combined to generate 1,517,900 bed nights for their hosts, from participants (comprising athletes, team officials and technical officials) and media alone.
Unsurprisingly, Rio 2016 recorded the highest number of participant and media bed nights, at over 600,000.
The true tourism impact of these events is much higher than these figures, which do not take into account overseas spectators, athlete-accompanying friends or family members, or participants who extend their stay beyond the duration of the event for training or holiday purposes. Rather, the participant and media bed night figures give a good indication of the baseline tourism impact for any given event.
The most successful events for sport tourism come as a result of collaborative efforts between all stakeholders; including the event owner, event organiser, host city and government.
Please
click here
for further information about the GSI Report.
About the Global Sports Impact (GSI) Report
The Global Sports Impact (GSI) Report is a product of the GSI Project and is published annually. The report analyses and benchmarks major events and their impacts using the GSI Methodology. The GSI Report was first produced in 2015, bringing together data and narrative from major sporting events from the previous year, covering economic, media, sporting and social impact pillars.
For further information about the GSI Report and how to order your copy, email clientservices@sportcal.com or call +44 (0) 20 8944 8786