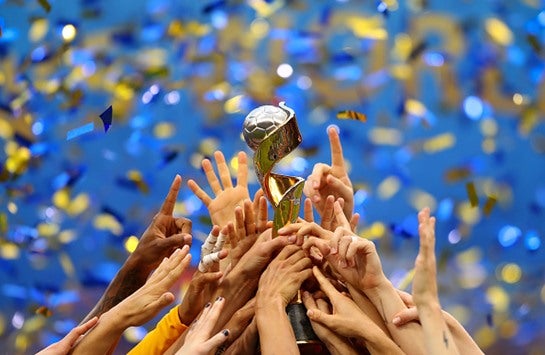 What was the biggest story of 2019?
Jonathan Rest, Head of News
Piracy in the Middle East could have a far longer term impact than predicted
The biggest story of 2019 in this industry has been the flagrant abuse of IP and media rights contracts by beoutQ, the Saudi-backed pirate network. Despite direct approaches to the Saudi state from governments and the biggest leagues and federations, beoutQ continued to pirate premium sports events throughout the year. Sports rights have become a pawn in the diplomatic battle in the region. Its impact will be felt for cycles to come, hitting the value of media rights in the region and ergo the revenues of major sports properties, bizarrely the same ones that seem intent on taking their showpiece events to Saudi Arabia.
Will Candy, Analyst
2019 is the year women's soccer came of age
2019 has been a huge year for women's soccer as the Women's Fifa World Cup, held in France, took centre stage over summer. Following the US's victory over the Netherlands, tournament organiser Fifa reported record breaking viewing figures
• 1.12 billion viewers watched coverage of France 2019 on TV at home, on digital platforms or out-of-home
• 993.5 million watched on TV alone, 481.5 million accessed coverage on digital platforms
• Final seen live by over 260 million viewers, average live match audience more than doubled from the 2015 edition
Off the back of this attendances at fixtures in women's soccer have seen significant increases. The Women's Super League (WSL) saw two attendance records broken as more than 70,000 people turned out to watch six matches from England's top-flight female soccer league on the Football Association's (FA) inaugural Women's Football Weekend. This included a record crowd of 38,262 who went to watch Arsenal's victory over north London rivals Tottenham Hotspur at the Tottenham Hotspur Stadium. Perhaps more importantly however, at Kingsmeadow, Chelsea's home game against Manchester United scored a record crowd for a WSL game held at a non-Premier League stadium, with a sell-out 4,790 in attendance. Meanwhile in the US, the National Women's Soccer League (NWSL) has been enjoying an increase in coverage and popularity on the back of the USA's second consecutive win at the Fifa Women's World Cup. The league has broken several attendance records in the months after the tournament, while it has also secured international and domestic coverage through a broadcast deal with ESPN.
Jacob Kemp, Analyst
Coca-Cola and Mengniu break the Olympic mould
One of the biggest sponsorship partnerships hit the news in June, when Olympic serial sponsor Coca-Cola announced its latest renewal with the IOC, to extend its commitment to the Games to 104 years. In signing its latest twelve-year sponsorship rights between 2021 and 2032, the brand made history by signing the first TOP level partnership agreement with Chinese dairy manufacturing brand Mengniu. The deal represents another giant step taken in China to grow its presence internationally, after the IOC had previously signed a deal with e-commerce giant Alibaba. The deal helps aid the Chinese government's ambition to become the world's biggest domestic sport economy by 2025.
Whilst Coca-Cola has become synonymous with the Olympic Games, owing to its longstanding historical partnership, this fresh unique Olympic partnership has been signed in an effort to boost its brand image in China. Conversely, in aligning with the American beverages brand, Mengniu is hoping to open itself up to the rest of the international market, for which Coca-Cola is heavily involved in. The increased involvement between Chinese brands and the Olympic Games coincides with a strong period of Olympic movement for Asia. Whilst the overarching aim of the deal for Mengniu is to grow its global operations, the deal comes at a strong time for expanding its continental presence. The Summer Games in Tokyo 2020 will represent the second successive major tournament in the Olympic cycle held in Asian borders, following the 2018 Winter Games in South Korea. Whilst the 2022 Winter Games will take place in China.
With the Olympics next big instalment scheduled to begin in just over twelve months, further Olympic partnership agreements can be expected to continue. Already in 2019, the Tokyo Olympic Games has announced a further six organisations that have signed deals with the IOC. In May, the Games confirmed its 63rd official domestic partner for the competition, Yahoo Japan as Japanese brands continue to buy into the potential marketing opportunities that come from hosting the biggest sporting competition.
Tariq Saleh, Reporter
Women's World Cup was a game-changing moment on and off the pitch
The Women's World Cup as it lived up to expectations both on and off the pitch. It generated the 1 billion global audience it projected and the tournament was entertaining. It'll go down as a defining moment for women's football and we've seen the knock-on effects it's had in several domestic leagues (record attendances etc).
Michael Barraclough, Data Manager
The internet giant making their move
Amazon making a play for more tennis globally. Bringing ATP and WTA to the same place in the UK and Ireland, making it possible to follow the tour without having to fork out for multiple, pricy subscriptions. Also has US Open rights in the UK market, so logical suggestion is that they go for the French and Australian too in due course, with French Open rights already secured in France.
Gordon Berry, Head of Data
Women's World Cup crosses over
Biggest sports story of 2019 was the success of the Women's World Cup in crossing over into the mainstream and drawing large TV audiences. The challenge for the women's game is move beyond fans only getting interested 'once every four years' which will involve governing bodies putting robust structures in place to grow the game, which has only been done in a handful of markets. The sport needs to get its best players and teams playing each other far more often (and in the best venues too). The introduction of a group stage to the UEFA Women's Champions League is a step in the right direction, but more is needed.
Conrad Wiacek, Head of Sportcal Sponsorship
Esports is here to stay and coming for your audience
The continuous and seemingly unstoppable rise of esports. While many outside of esports expected the bubble to burst at some stage, the sector continues to defy expectations. Hundreds of millions of hours of content are consumed by a massive global audience every single month, while brands are partnering with esports tournaments, teams and players, in ever greater numbers. With experts predicting that media rights will be the next area of growth in esports, the sector is in rude health as evidenced by the success of the 2019 League of Legends World Championships, where 136m hours' worth of content was consumed by a peak audience of over 3.6m.
Simon Ward, Desk Editor
Amazon goes mainstream
The industry has been watching with interest to see when the internet giants would make a big splash in soccer, and, although it had to wait until December, Amazon's swoop for Champions League rights in Germany starting in 2021, and its generally well-received live coverage of Premier League matches in the UK could be a precursor to a sustained challenge to the pay-television sector.
Euan Cunningham, Reporter
Big name partners give the WSL a big time feel
Symbolically this felt like a breakthrough year for women's football in England, with one of the biggest single moments the decision by Barclays to become the WSL's first title sponsor. Largest investment into UK women's sport to date and provides legitimacy for the growing league.
What will be 'The Story' of 2020?
Jonathan Rest, Head of News
A new contender will enter the media rights market
The launch of a (legitimate) Saudi-backed pay-TV broadcaster across the MENA region that will cause considerable discomfort at BeIN Sports.
Will Candy, Analyst
Esports will be present at Tokyo 2020, but this will not mark the start of a future relationship
Intel and the International Olympic Committee (IOC) will host the Intel World Open, in the lead-up to the 2020 Olympic Games in Tokyo. It will consist of a Rocket League tournament and Street Fighter competition, with each event having a $250,000 prize pool. Whilst some may view this as the beginning of esports journey into the Olympics, it will in fact serve to highlight the problems of any future relationship.
The IOC has chosen Rocket League and Street fighter because of their relative simplicity and willingness of publishers to exercise a certain amount of control over their IP. These games however will not showcase esports at its best, or generate the level of interest the sport could. Indeed, only the presence of 'top-tier' titles, e.g. Fortnite and League of Legends, which regularly fill-out large stadiums, have such potential. The likelihood of one of these ever being present however is extremely small. This would require publishers of the titles, e.g. Riot and Epic games to relinquish control of their respective IP addresses to the IOC, something one can never see happening. The complexity of the games moreover may not appeal to IOC.
Simon Ward, Desk Editor
The 2020 Olympics will be significant for the future development of the Games
The eyes of the world will be on Tokyo in July and August when Japan looks to follow up the success of the 2019 Rugby World Cup with its second-ever summer Olympics. IOC president Thomas Bach, the driver of the Agenda 2020 reform programme, will be hopeful that a well-organised and cost-efficient games will help attract more bidders for future events, and there will be a strong emphasis on technology with TOP sponsors such as Alibaba and Intel to the fore.
Tanveer Aujla, Analyst
The NBA is going to change
82 games in a season is a lot, but it's the way the NBA has operated since the 1960's. Tradition has long kept this format the same, despite the expansion of the league in subsequent decades. But the remarkable number of injuries over the years to NBA athletes would possibly indicate that the league is placing too much strain on its players. Many of the league's great players have seen their bodies break down completely towards the end of the career, with LeBron James seemingly the only exception.
2019 Finals MVP Kawhi Leonard, in his championship winning season with the Toronto Raptors the following year, sat out 22 games of the regular season which was attributed to "load management", a term now synonymous with resting star players through the regular season. While the arguments are made around player welfare, the financial implications of fewer games would need to be addressed. The league's current schedule offers ample room for TV broadcasting, with ESPN and TNT agreeing a nine-year, $24 billion deal back in 2014. Reducing the number of games would impact the amount of money TV companies would pay to the NBA, thereby decreasing the league's overall income, as well as affecting the salary cap currently in place. Discussions have recently been had regarding the alteration of the season's format, with Commissioner Adam Silver stating on multiple occasions that he would welcome talks of a shorter season, as long as something meaningful could be introduced to make up the money lost from having fewer games.
Tariq Saleh, Reporter
Cryotocurrency will establish itself as a sponsorship category
The cryptocurrency industry will develop an even bigger presence in sports and tap into more than just football by the end of 2020. I think all 20 PL clubs will have a crypto sponsor by next season. Whether we like it or not, it's the future and provides a level of efficiency and transparency for major deals. More sports teams and leagues will also allow fans to make purchases through cryptocurrency too as some have started to do this year (merchandise, tickets etc). It's a digital age and sports always wants to be ahead of the curve.
Michael Barraclough, Data Manager
English Netball is well placed to capitalise on a successful World Cup
English netball to grow commercially, following Nike's move to sponsor England Netball. Netball is starting to attract the larger companies and having strong audiences for the recent World Championships, both on traditional TV platforms as well as across social media, will also help to drive significant interest. With the existing TV deal due to expire at the end of the 2020 domestic season, the opportunity is there for Netball to grab a deal akin to the WSL's deal with the BBC and BT Sport and capitalise on its recent popularity.
Tim Rollason, Analyst
Federations will need to look at developing new formats to attract new fans
More federations will look at sport development and growing participation within a sport by creating new formats to make their sport more accessible or easier to play and understand. This will be a factor in heavily urbanised areas and cities or in nations and cities with little infrastructure / facilities for a particular sport. Creating and successfully implementing these new formats will provide opportunities to grow participation by bringing sport to a new populations and societies where it was inaccessible before.
Conrad Wiacek, Head of Sportcal Sponsorship
The rise and fall of OTT/D2C channels
I predict 2020 will see the rise and fall of numerous OTT or direct to consumer platforms. While content providers both in sport and elsewhere see the 'direct to consumer' path as being paved with gold, many will struggle to monetise their content as many consumers simply will not entertain subscribing to multiple packages in order to follow multiple sports. Instead of opening up their sports to a wider audience, many will simply reduce their wider market appeal and lose the casual viewer, something we have seen happen to sports like cricket, tennis and F1 following as they moved away from free to air to pay TV over the past decade.
Euan Cunningham, Reporter
The Hundred will be a sporting success, but not a commercial one
The new 'The Hundred' short-form cricket competition will probably be a real success on the pitch, with so many star players already committed, but I reckon it won't do enough to capture the public's imagination enough to be a success off it, in terms of both TV and stadium audiences, and also commercially. Too many marketing missed opportunities by the ECB already!
Athletes to Watch in 2020
Nyler Houston
Not a new name to those in the action sports/X Games scene, but I think US skateboarder Nyler Huston will breakthrough into the main stream sporting conscious in 2020 when skateboarding makes its debut at the Tokyo 2020. The IOC is banking on the likes of skateboarding, sport climbing and surfing to drive a new, younger audience for the Olympics. A marketable athlete like Huston will help sell that story.
Kyler Murray
Drafted as the first overall pick in the 2019 NFL draft by the Arizona Cardinals, Kyler Murray has had a breakout first season as the organisation's starting quarterback. Murray has consistently posted numbers that have him as a strong contender for the season end Rookie of the Year award. Murray has already achieved major honours before his professional career, winning the Heisman Trophy in 2018, awarded to best collegiate players in the country. Despite the Cardinals currently possessing a losing record and sitting bottom of the NFC West, Murry has been praised for transforming the team's offense. Comparisons have already been drawn between him and current MVP favourite, Lamar Jackson, for their Heisman Trophy wins, and exceptional running speed, an attribute not previously associated with many of the game's great quarterbacks. If Murray can progress the same way Jackson has throughout his second year, he's on track to become one of the future stars of the NFL.
Christian Coleman
It's the first Olympic 100m final without world famous Usain Bolt. Time for someone new to step into the spotlight. Step up Christian Coleman…
Caeleb Dressel
The swimmer most likely to do a 'Phelps' and bring a Fort Knox-sized pile of gold home from the Olympics. He won eight medals, including six gold, at this year's world championships. (Honourable mention to Simone Manuel, though she did win individual gold in Rio, so already a star).
Jofra Archer
While Jofra Archer may have already made a substantial impact on the pitch for England in 2019, it feel like his most significant impact off the pitch, in terms of attracting lucrative sponsorships and endorsements, is yet to arrive. Young, marketable and very good in interviews and with the media.
Ansu Fati
Ansu Fati has already made history – the second youngest player to debt for Barcelona, the Barcelona senior team's youngest ever goal scorer and the third-youngest scorer in the history of La Liga, the youngest player in the history of La Liga to score and assist in the same match in his first start, the youngest player to play for Barcelona in the Uefa Champions League and Fati is the youngest goalscorer in Champions League history when he scored against Inter Milan in the San Siro. All of this, and Fati is still only 17.
Coco Gauff
Everything about her is perfect for marketers and despite her young age she'll be a big name in sports next year after announcing herself. She's young, talented, humble and very professional in her approach, she'll land many endorsements.
Luka Doncic
While his debut season in the NBA was certainly eye catching, his second season has been nothing short of phenomenal with Doncic putting up MVP level numbers consistently night after night. With tribute songs already being written about the Slovenian prodigy, it is fair to say that the secret is out but 2020 could cement Luka Doncic as one of the top five players in the NBA and that opens up a new world of commercial opportunity.
Lois Toulson
Forming part of Aldi's ambassador programme, 10m diving specialist Louis Toulson is one of Team GB's best medal hopes for Tokyo 2020. The 10m platform contest is one of the most exciting and best watched events as the Olympics, a good performance from Toulson could see her profile sky-rocket.
Sportcal