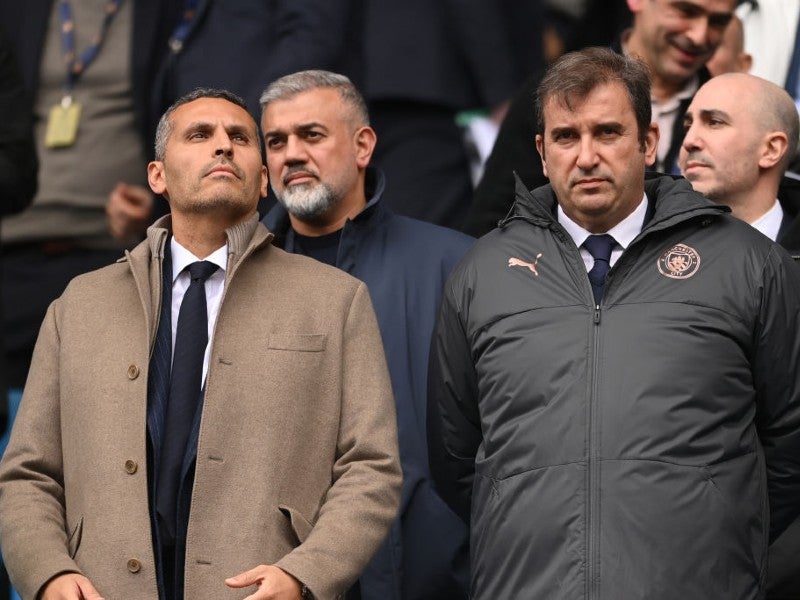 Multi-club ownership (MCO) has grown significantly in soccer over the last five years and the trend isn't slowing down. According to research by international professional services firm Deloitte, over 70 MCOs are now thought to be in existence, more than double the amount only five years ago (28).
It is becoming noticeably common in the English Premier League as nine of the 20 top-flight clubs operate within an MCO model. The trend has led to investors, hedge funds, and even sovereign nations using the opportunity of owning multiple teams across numerous regions and nations to grow their brands and networks.
What has led to this growth in recent years?
"In general, sports investment has been increasing as of late, and across the board that has driven investor interest," Theo Ajadi, manager in Deloitte's sports M&A advisory practice, tells GlobalData Sport. "As people have bought one club, at times, there have been various reasons for buying another one.
"There can be greater synergies in multi-club ownership. In most of the cases of MCO, there is a 'star' club, where you have one club which is the pinnacle, and then you have a number of clubs that feed into that organization.
"This might be for player pathways where you have player development angles, or there could be other synergies or markets that could be more financially sustainable in terms of investing in a club that is maybe mid-table, profitable, or close to profitability and increases the scale of the ownership group which can be quite enticing for a future owner.
"There have been some examples where private equity firms have bought into an MCO model. So, in a lot of situations that can be the rationale."
Soccer is a hugely lucrative business and European clubs, in particular, continue to attract investors from all over the globe as [they provide] a chance for the biggest returns.
The likes of City Football Group (CFG) and Red Bull have been at the forefront of MCO in recent years given the success and prominence of their respective 'star' clubs – England's Manchester City and Germany's RB Leipzig.
Abu Dhabi-backed CFG was among the first to realize a multi-club ownership vision successfully. Following the Abu Dhabi United Group's acquisition of Manchester City in 2008, the club hired former Barcelona executive Ferran Soriano, who had conceived of the idea of a global network of clubs while still at the Catalan side.
Taking over day-to-day management of Manchester City in 2012, Soriano had the backing to realize his vision and began the expansion with the formation of MLS expansion side New York City FC, the 20th club created in the top-tier US league, and effectively the beginning of CFG.
Today, the group holds majority or minority stakes in a total of 11 soccer clubs globally, including three in Europe with Italian outfit Palermo becoming the latest in July, joining Troyes (France), Lommel (Belgium), and Girona (Spain).
CFG is seeking to further broaden its stable having made a $190-million offer to acquire a majority stake in Brazilian outfit Bahia in September.
Red Bull's portfolio is considerably smaller, but the group has operated a successful business model focused largely on scouting and an integrated philosophy.
In fact, Red Bull's MCO model is arguably the most visible at the elite level in Europe, with both Leipzig and Austria's RB Salzburg competing regularly in the UEFA Champions League.
The energy drinks giant also has the New York Red Bulls in MLS, as well as clubs in Brazil and Ghana under its umbrella.
While CFG and Red Bull may be among the most recognizable multi-club owners, Italian businessman Giampaolo Pozzo regards himself as one of the pioneers.
The 81-year-old currently owns Udinese in Italy's top-flight Serie A and English second-tier club Watford. Girona, of the Spanish top-tier LaLiga, were also under his stewardship between 2009 and 2016.
Pozzo has owned Udinese since 1986 and is the longest-serving president of any top-flight club in Europe's big five leagues. Under his tenure, Udinese have spent 29 of the 35 seasons with him in Serie A.
Pozzo added Watford to his portfolio in 2012 and has, on numerous occasions, been among a small list of multi-club owners with teams in two of the big five leagues during Watford's stints in the top-tier English Premier League over recent years.
Explaining his reasons for owning multiple teams, Pozzo says: "Our family has always been very passionate about football and I've been a Udinese fan for my whole life. For this reason, and given we've had other business ventures abroad over the years, we decided to invest in football in Spain and England, places in which our businesses were already making waves.
"It was a monumental move that has allowed us to expand our know-how and align elements of the clubs' developments, both on and off the pitch, as is still the case between Udinese and Watford.
"We were among the pioneers in this sense and I believe that given what Red Bull and City Football Group are doing, for example, it has become an ever-growing phenomenon. Club owners have actually asked how we set up such systems and what benefits can be derived from multi-club ownership."
US interest
More recently, the MCO model in European soccer has caught the attention of US investors who have identified a clear opportunity.
Notably, private equity group RedBird Capital Partners followed up their acquisition of French Ligue 1 club Toulouse in 2020 by purchasing Italian heavyweights and reigning Serie A champions AC Milan for around €1.2 billion ($1.2 billion) in June.
The firm has significantly stepped up its presence in the soccer market in recent years and also holds a stake in Premier League giants Liverpool after acquiring a 10% share in the team's owners Fenway Sports Group (FSG) last year.
RedBird's managing director Gerry Cardinale is a big proponent of MCO and views it as a good way to create a one size fits all model that creates value for the company's assets.
Speaking at the Leaders Business Summit in London recently, he explained: "We've been pioneering the multi-team concept for two reasons. Firstly, diversification is risk prudent but more importantly with the things we do, we're so integrated operationally and investment-wise that to put that kind of effort and infrastructure in place, you really want to be able to federalize that out to all the pieces of intellectual property that you touch.
"The team that we put together, whether it's in the US with FSG, Toulouse, or now with Milan, they're doing the same thing, it's all the same construct. There is a synergy there and best practices that you can do across all of these assets. I believe the sum of the parts is greater than the whole if you can put these together and what is coming to sports is different types of capital.
"Permanent capital is a very appropriate type of capital for sports and clearly the public markets are there for that, they're not ready yet. There's going to be disclosure issues in terms of opening the books of teams and leagues to the public, but there's no doubt in my mind that's where it's going."
In addition to RedBird, fellow private equity group 777 Partners has been extremely active in soccer with several acquisitions in the past 12 months.
The firm has been on a spending spree, investing hundreds of millions of dollars to take controlling stakes in four clubs – Italy's Genoa, Belgium's Standard de Liege, France's Red Star FC, and Brazil's Vasco da Gama. Earlier this month (October), 777 Partners also took a minority stake in Australian A-League side Melbourne Victory.
Additionally, the private equity group, which has made targeting undervalued global soccer assets a key component in its development strategy since 2015, has a significant stake in Spain's Sevilla.
With CVC Capital Partners buying commercial stakes in LaLiga and Ligue 1, it's clear that soccer is a very attractive market for private equity companies.
"There have been some notable success stories around private equity investment in the past and that piqued interest," Ajadi says. "That financial sustainability focus has made it an area that they believe is a bit stronger than it has been in the past.
"For some, from a brand perspective, it might be quite a high-profile thing to get involved in which might have its advantages or even disadvantages depending on how you look at it. Those are some of the main reasons. People are now seeing how resilient the sports sector is.
"There has been a really strong media rights growth, mainly in North America. Even in Europe, the international rights for some of the big five leagues have been growing strongly as well. There's still further growth and a number of mature assets which provide opportunities to generate strong returns. They're all reasons why private equity companies are seeing the market has been stronger than ever."
In the English Premier League, the American owners of Arsenal, Chelsea, and Liverpool are understood to be the latest to explore a multi-club network. Having only bought Chelsea in May to make his first entry into soccer, American businessman Todd Boehly is already eyeing his next team.
The Guardian recently reported that Boehly has begun the process of finding other clubs to invest in after reportedly being turned down by the Brazilian club Santos. He is understood to have instructed Chelsea's new president of business, Tom Glick, to take charge of the process, which could lead to investment in clubs in the Belgian and Portuguese leagues.
They and Brazil are seen as potentially lucrative sources of young players, with Boehly believed to have consulted Jorge Mendes over which clubs to consider in the Portuguese super agent's homeland.
Speaking at the Salt Conference in September, Boehly said: "We're going to be continuously adding resources. We've talked about having a multi-club model. I would love to continue to build out the footprint. There are different countries where there are advantages to having a club.
"Red Bull does a really good job at Leipzig and at Salzburg, both of which are playing in the Champions League, so they've figured out how to make that work. You also have Man City which has a very big network of clubs."
Boehly's compatriots John W Henry at Liverpool and Stan Kroenke, who owns Arsenal, are also understood to be eyeing multi-club networks to rival CFG. The American trio also owns teams across multiple sports in the US.
Kroenke's ownership portfolio includes the Colorado Rapids in MLS, as well as the Denver Nuggets in the NBA, Colorado Avalanche (NHL), and the Los Angeles Rams (NFL), while Boehly has ownership stakes in Major League Baseball's Los Angeles Dodgers and the Los Angeles Lakers and Los Angeles Sparks of the NBA and WNBA, respectively.
Henry, meanwhile, is the majority owner of the Boston Red Sox and recently acquired the Pittsburgh Penguins.
Like Boehly, Kroenke is understood to have explored the possibility of acquiring clubs in Brazil, Belgium, and Portugal, while FSG is keen to grow its stable through its partnership with RedBird.
While owning multiple teams presents opportunities, particularly in terms of player pathways, it can also come with challenges.
"There have certainly been challenges which have both enriched us and presented us with difficulties," Pozzo explains, discussing his own experiences.
"Thanks to our skills and through applying the model that has made Udinese world-famous, we've been able to achieve the objectives we set for all of our clubs. We took Granada from the third tier to LaLiga in the space of two years and kept the club in the top flight for five consecutive seasons, and we brought Watford back to the Premier League and even oversaw the team reaching the FA Cup final in 2019.
"There's no doubt that being involved in football in different countries has allowed us to broaden our horizons and to transfer the strengths of the respective systems across our club family. It has given us the opportunity to modernize our business model and anticipate, with innovation and perspective, what's going on in world football right now and where the game is heading."
With Paris Saint-Germain's owners Qatar Sports Investments becoming the latest ownership group to expand its multi-club network with a minority stake in Portuguese outfit Braga earlier this month (October), the question is will this trend continue or slow down for the next five years?
"It may grow in the short term," Ajadi says. "Whereas in the last few years we've seen an increase, especially in the number of clubs, where there are more than two or three clubs in a model, people might stand back and assess if it's working because that will guide whether or not people keep jumping on this bandwagon or decide that there need to be bespoke opportunities where it does work and where it doesn't.
"Where we see potential failings or successes, people will then try and either replicate that or go down a different route. Over the next five years, it'll be really interesting to see how successful these organizations are both on-pitch, financially, and in attracting further investment in the future."
Image: Michael Regan/Getty Images