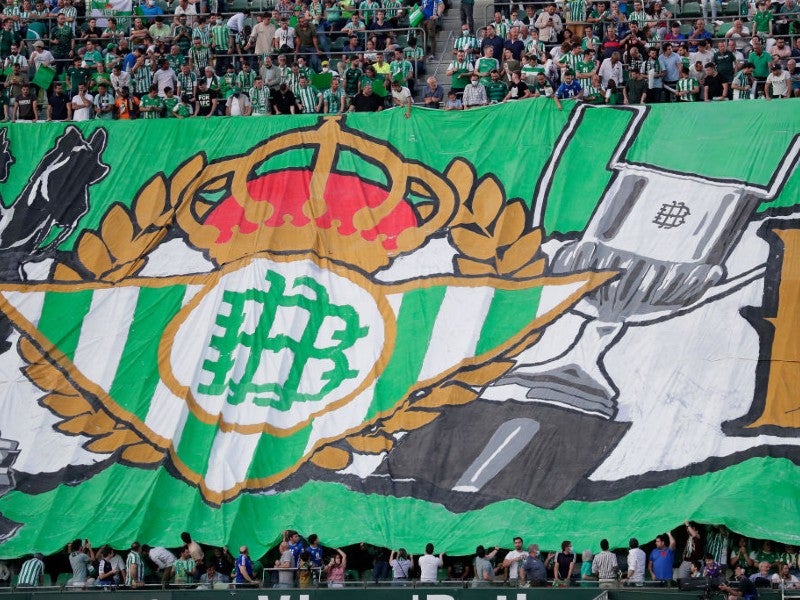 Real Betis are becoming the digital club in Spain.
The LaLiga side are in the process of a digital transformation, leveraging technology to improve fan engagement.
The Seville-based club boast one of the largest fan bases in the country and have introduced a more streamlined method to target their huge following.
Through a 'single sign-on' system, Betis seek to use data to communicate with fans through different mediums.
It's very much a case of out with the old and in with the new.
"We have a big fan base and the way to get benefit from that is data and digital information because the new consumers want to consume in a different and tailor-made way," Ramon Alarcon, general manager of business at Betis, tells GlobalData Sport.
"You can keep doing things in the old way, which is going to reduce your income, or adapt your company and brand to what the young people are asking for. You need to know the fan and offer a personalized proposal and create an experience."
For Alarcon, it's important to create an experience for fans before, during, and after matches, which will be boosted by plans to make the Benito Villamarin stadium fully 5G.
In recent years, Betis have also been introducing technology that creates better experiences for supporters while also boosting revenues, thus allowing fans to make full use of the team's digital services and the club to collect data to provide a more personalized offering.
"Aside from matchdays, we want to have our own data lake with a single sign-on so that every time a fan uses our many services – such as buying a ticket, merchandise, social media, going to our museum – we can have all this data in a unique system to be able to communicate with them through tailor-made methods," Alarcon explains.
"This could be tailor-made products, services, and experiences and this is the way our brand can grow and, of course, if our brand grows, revenue will grow."
Why is it important to control the data of fans?
Alarcon adds: "Nowadays, some people say that data is the new petrol. You need the petrol but you also you need the car to fill the petrol with. So, it's really important because we have four or five million followers.
"We want to know who they are, what they want, and how we can offer them what they're asking for. To match the demand with the output is really important, so the data is going to be crucial from a commercial point of view."
The digital approach taken by Los Verdiblancos (the green and whites) is meticulous and strategic. The running of the club is being overhauled so that key processes can be done digitally but traditional means of communication are still maintained to ensure that all fans are being tailored to and not alienated.
Among the key results of the club's digital developments has been a rise in stadium attendances. Through a revamped digital ticketing service, Betis have been able to increase numbers inside the Benito Villamarin and limit empty seats.
Through the club's official app, season ticket holders unable to attend games can share their ticket with a friend or relative, amend the ticket from child to adult, or make it available for resale where the club will split the price 50-50 with the supporter if it's sold.
For Betis' owners, filling the stadium is a priority.
"We have almost 51,000 season ticket holders with a capacity of 59,000 so we have a small number of tickets left over for every match," outlines Alarcon, who has been in his role since 2016.
"With this [ticketing] platform, fans can offer tickets to us that they are not going to use and put it back on our platform.
"For us, it's important because it's not just about making money, it's about having more people come into our stadium, having an experience with us, and introducing their data in our system because it is digitalized which adds more customers to our platform.
"In our stadium, we have a policy where we have 8,000 tickets for young people under 15. But 8,000 tickets are a lot for every match and some of them can't go to all the matches."
Inevitably, the club's increased work in the digital space has led it to explore the Web3 world through NFTs and digital collectibles and the opportunities available in the market.
Betis recently became the first soccer team to launch a digital wearable jersey through a partnership with fashion-focused NFT startup Fancurve.
Alarcon admits, meanwhile, that Betis are still learning about the metaverse and how it can create value.
"NFTs and the metaverse are something new but it's going to go somewhere," he says. "The best thing [for us] is to try it because the only way to start moving is to take that first step.
"We don't have a real strategy right now in terms of Metaverse, NFT, or blockchain products because it's something new we are investigating but the digital jersey was a good idea to start and not just in terms of revenue because it's not going to give us a big amount of money, but it's a product that helps to reach another target as it will reach people in this digital world.
"That was our intention when we did that, we want to move one step forward in this hyper-digital world where many young people are located."
Betis are making strides in the digital sphere and seeking to set themselves apart from rivals in LaLiga in this area.
However, they are keen to bring other clubs along on their digital journey to ultimately elevate the appeal of LaLiga.
Betis believe a collaborative effort off the pitch across key areas will help the global growth of the league, as was the case with the centralized media rights model introduced in 2015.
"We normally share many things with other teams in LaLiga because the TV rights have proven that if we work together, we are much better because when we started selling the rights in a centralized way, they increased a lot," Alarcon states.
"To share best practices with other clubs is not a problem for us. We have to compete with them on the pitch but off the pitch, collaboration is really important.
"We are a member of the delegate commission and board of LaLiga and are very happy with the LaLiga policies. The idea is to grow as a competition.
"If the competition is bigger, there will be more to share and you'll have to do your best to get as much of the cake as possible. But the first step is to create a bigger cake. The bigger the cake, the more you can get."
CVC investment
Betis were among the majority of clubs in LaLiga that voted in favor of the league's partnership with CVC, which will see the private equity firm invest a total of €1.99 billion in return for an 8% share of the Spanish top-flight's commercial business.
The clubs that agreed to join the 'Impulso LaLiga' (Boost LaLiga) project have reportedly received the first €1 billion of investment from CVC, with the remaining capital due in 2023 and 2024.
In Alarcon's view, for a large firm like CVC to back Spanish soccer during a pandemic and a period of financial turmoil speaks volumes for the potential and value of the competition and room for growth.
The private equity group is betting on LaLiga with hopes for a significant return, which Alarcon believes is a win-win situation for both the league and Betis.
"CVC is willing to put its money and capital risk on equity in a business because it believes it's going to grow a lot," Alarcon says.
"This was the first thing that impacted me because this is not a loan, it's real equity. CVC will get more money if the business goes well, and if not, it will lose the money so this is an important issue and the first point to make.
"The second point is the value that it has offered our competitions, which was quite good and more than reasonable.
"Thirdly, due to the pandemic, clubs are short of money which forced us to stop investing in areas such as digital transformation, facilities, and infrastructure. If you stop investing, you stop growing. CVC offered us the money to continue with the investments we needed to maintain the industry and continue growing."
He adds: "Ultimately, the result is better for the Spanish industry. When people question why we are reducing our TV rights in the following years, I say it's better to have 80% of a big cake than 100% of a very small cake. It is a very impressive project and the people at LaLiga have done a great job to find a big company like CVC, which is betting on our industry and betting on us.
"CVC trusts that if it invests its money into us, with the way we're running the industry, we're going to grow. Private equity companies invest money to get a return on investment, so if CVC wins money, we'll win more money because we have 90% and they have the 10%. It is a great business."
Alarcon outlines that Betis will use the CVC funds for infrastructure, digital transformation, and maintaining the payroll for players.
The club are keen to complete the redevelopment project of the Benito Villamarin, which has been taking place in recent years, with plans to include commercial spaces for bars, restaurants, and corporate events.
"The stadium has to be the heart of our club," the club's commercial chief says.
Betis also recently began construction on a new sports complex in the Dos Hermanas area in Seville. The team hired Spanish infrastructure and energy firm Acciona to carry out the work which began in July.
Like all clubs, Betis' matchday income took a huge hit due to the pandemic with Alarcon revealing that the team lost more than €30 million from ticketing due to matches being played behind closed doors for the best part of 18 months.
Commercial growth
In an effort to further grow their commercial revenues, Betis recently recovered the management of their retail operations after switching kit suppliers from Italian brand Kappa to Danish firm Hummel.
The club has already opened two new stores in Seville, although it is yet to open an official shop at its home stadium, which would typically generate the most in terms of merchandise sales.
"All the big clubs run their own retail businesses but we're just at the beginning," Alarcon says. "When we arrived at the club, we had many things to do and were very focused on the sporting side so we preferred for others to run our retail for us to limit our workload. But, of course, if you work less, you earn less.
"Again, this allows us to have all the data and be able to give personalized offers to our clients. To do this, it's much better for us to control our retail system and also to create a specific product.
"It's not just about earning more money but to express our brand and to provide more personalized offers to our clients."
Having won the Copa del Rey last season, the club hopes that on-field success can be matched commercially in the years to come.
Alarcon reveals that the team's commercial income will increase to €33 million next season, more than double the amount generated in the first season under the current ownership group in 2016.
"When we arrived at the club, we created a 10-point plan and many people thought we were crazy but we've fulfilled all of them," he concludes.
"On the sporting side, we wanted to play in Europe very frequently and in the last five years, we've done so three times. We knew that if we achieved our sporting objectives, we would benefit on the commercial side.
"Our idea is to increase our commercial revenue to €50 million in three or four years. To do that, the sports results are really important but it's more important to create value in the experiences we offer.
"We will continue offering good assets and content to our sponsors and offer good experiences in our stadium with new technologies to our fans. We have a good future in terms of commercial because we have the fanbase, assets, and a good proposal.
"Our commercial strategy shouldn't be based on our sports results because we can lose as it's a competition. But if we create a commercial value proposal, combined with other areas such as social media content and fan engagement, we have a good commercial future and of course results on the pitch can help to boost it."