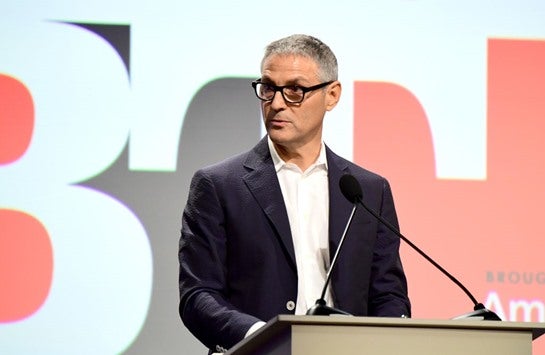 The bare facts are these. Endeavor, the former Hollywood talent agency that has developed into a global entertainment, sport and content company since its acquisition of IMG, the international sports and entertainment company, has, as was widely expected, filed for an initial public offering.
Endeavor, which said it will list on the New York Stock Exchange, is filing to raise a minimum of $500 million, it has been reported, having reported a profit of $231 million on $3.6 billion in revenue for 2018 and sales growth of about 20 per cent. One report valued Endeavor at $9.9 billion.
However, the company lost $173.2 million in 2017 and again reported a net loss of $152.6 million in the first three months of 2019, as its cash on hand fell below $500 million.
It said that it could use some of the funds raised to pay off part of its $4.6 billion of debts, or to acquire other assets.
Those facts were enough to provoke an analysis of Endeavor's "financial health" by Variety, the movie industry bible (Endeavor remains best known as a Hollywood talent agency), which concluded that "serious weaknesses… are laid bare in the prospectus it filed with the Securities and Exchange Commission on May 23 for its upcoming IPO.
"The numbers demonstrate that Endeavor, which has grown rapidly through acquisitions over the past six years, did not turn a profit in 2016 and 2017, and only did so in 2018 because of the sale of its IMG College division."
A wide-ranging attack in Vanity Fair (which, it is understood, has been dismissed as unfair, inconsequential and biased within Endeavor) went further, describing the company as having a "whopping amount of debt and a zany collection of disparate assets."
The article continued: "Endeavor is a shopping cart overflowing with more than 20 different acquisitions that [Ari] Emanuel [Endeavor's high-profile chief executive, pictured above] has made using a lot of other people's money. There's Endeavor's controlling stake in UFC, the mixed martial arts outfit. There's a professional bull-riding business. A minority stake in a college-sports marketing business. There's a controlling stake in a fringe arts festival and a beauty pageant. There's the Miami Open tennis tournament. And, of course, a minority stake in a boutique investment bank, the Raine Group, started by a former Goldman banker (because: why not?)."
Critics have suggested that the IPO was required mainly to service Endeavor's high levels of debts. In the filing, the company says that the money raised will be used for "working capital and general corporate purposes," while adding: "We may also use a portion of the net proceeds from this offering to repay outstanding borrowings under our Senior Credit Facilities or for acquisitions of complementary businesses or other assets."
So, the critiques can be summarised as:
• The numbers don't add up
• The disparate parts don't make sense as a business.
Endeavor has entered a period of silence mandated by the SEC in the lead-up to the IPO, so would not comment on the attacks. However, in its IPO filing to the US Securities and Exchange Commission, it has anticipated the financial criticism by adopting a controversial measure of its success called 'adjusted EBITDA'.
Under this measure, Endeavor reported adjusted EBITDA of $551 million, compared with actual EBITDA of $259 million. In the SEC filing, it says: "Adjusted EBITDA is a non-GAAP [Generally Accepted Accounting Principles] financial measure and is defined as net income (loss), adjusted to exclude the results of discontinued operations, income taxes, net interest expense, depreciation and amortization, equity-based compensation, merger, acquisition and earn-outcosts, certain legal costs, restructuring, severance and impairment charges, certain non-cash fair value adjustments, certain equity earnings and certain other items identified as affecting comparability, when applicable. Adjusted EBITDA margin is a non-GAAP financial measure and is defined as Adjusted EBITDA divided by revenue.
"Management believes that Adjusted EBITDA is useful to investors as it eliminates certain items identified as affecting the period-over-period comparability of our operating results, and that Adjusted EBITDA margin accordingly provides a performance margin adjusted for such items affecting comparability. Adjusted EBITDA eliminates the significant level of non-cash depreciation and amortization expense that results from our capital investments and intangible assets recognized in business combinations, and improves comparability by eliminating the significant level of interest expense associated with our debt facilities, as well as income taxes, which may not be comparable with other companies based on our tax structure."
However, Variety noted: "Adjusted EBITDA is a common metric used by companies preparing for IPOs to eliminate one-time gains and losses. But in the case of Endeavor, as it absorbs and integrates numerous acquisitions, the adjusted EBITDA numbers skew the picture of the company's performance. On a company-wide basis, losses from continuing operations expanded in 2017 and 2018, which paints a far less rosy picture than adjusted EBITDA."
Potential investors will form their own opinions over whether or not the adjusted EBITDA figure fairly reflects Endeavor's financial performance.
Meanwhile, the criticism that Endeavor's assets are too disparate to form a coherent business is obliquely tackled in an interesting and instructive introductory letter (albeit described as "all fluff" by one critic) to the SEC filing by Emanuel, in which he writes: "Content is no longer defined solely by the traditional categories on which our businesses were founded. Television, movies and live events have been joined by others including podcasts, experiences, social media, multiplayer video games and eSports. Wherever you are in the world and whatever way you define content, Endeavor is likely playing a role.
"As the demand for content continues growing, developing new distribution channels to complement our clients' creative needs is essential. We've built a series of businesses across streaming, audio, experiences, gaming and education to ensure our clients and Endeavor are well-positioned for whatever the entertainment landscape looks like in the coming decades."
Ever since the IMG takeover in 2013, Endeavor has insisted that it is much more than a talent agency, boasting of the synergies inherent in its involvement in sport, entertainment, fashion and food.
In the SEC filing, it claims: "Endeavor's platform offers a comprehensive solution for our diverse array of clients and owned assets to expand their presence across entertainment, sports and the entire content ecosystem by leveraging our integrated capabilities. We have demonstrated the ability to generate growth, identify complementary opportunities and open up new categories of business. Our platform offers breadth and depth of access that both retains and continually attracts new creative talent and opportunities."
Under the title, 'Our platform at work', the filing offers a series of case studies of the supposed synergies between Endeavor's constituent parts. For example, in a 'talent case study' on Dwayne Johnson, the former WWE professional wrestler, it points out: "Since signing in 2011, Dwayne Johnson has steadily risen from WWE star to movie star to multi-hyphenate talent with a creative empire stretching across every genre. In 2016, Johnson broke out as Forbes' highest-paid actor, and has since pushed further into television, merchandise, advertising and digital, often in collaboration with other Endeavor clients."
The filing includes the following graphic:
Similarly, in an 'Owned asset case study' on UFC, the filing asserts: "Since acquiring UFC in 2016, the 25-year-old organization has achieved strong growth across live events with a record 15 sell-outs in 2018 across a host of new markets; enhanced media rights including a record deal with ESPN and ESPN+ in the U.S. and numerous new international media rights deals; sponsorship and licensing with more than 40 new partners; original content via its streaming service FIGHT PASS; and talent integration from across the Endeavor platform.
"With more than 300 million fans, including over 80 per cent of fans outside the U.S., and one of the youngest (e.g. 40 per cent millennials in the United States) and most diverse demographics in all of sports, UFC continues to sell out some of the biggest and most prestigious arenas around the globe, while broadcasting in over 160 territories to approximately 1 billion households."
This graphic accompanies the case study:
However, one knowledgeable observer predicts problems ahead from clashes between what he terms "a bunch of egos," including Emanuel and Dana White, the larger-than-life figure who helped build UFC, and who recently signed a new seven-year contract with Endeavor to remain UFC's president.
White has run UFC since 2001, and stayed with the
organisation when it was acquired by Endeavor. It is understood he earned over
$350 million from his stake.
The observer says: "If many of the big investors in USA or London look at this, they're going to say: "How do we piece this jigsaw together? Who controls this? How would you even describe Endeavor now?"
The filing's repeated use of the word 'platform' also fails to persuade at least one former senior IMG executive that the criticism that Endeavor represents a ragbag of disparate elements has been answered. The source says: "They bang on about their 'Content Platform' like it's some actual entity (like a Netflix) but I don't see why it's a platform. It's just lots of deals."
The source is also sceptical of the potential for UFC, claiming that, despite boasting of "a record 15 sell-outs in 2018 across a host of new markets," "numerous new international media rights deals," and "over 80 per cent of fans outside the U.S.," Endeavor remains disproportionately reliant on the US market and its $1.5-billion, five-year deal with ESPN for the lion's share of its UFC revenues.
Once again, investors are left to decide whether to take the charismatic Emanuel at his word that the combined entity amounts to more than the sum of its parts.
IMG
Endeavor acquired IMG for $2.3 billion in 2013, and completed the $4-billion acquisition of mixed martial arts promoter UFC in 2016.
Formerly known as WME, Endeavor's acquisition of Forstmann Little, IMG's former owner, to create WME-IMG apparently brought IMG full circle back to its roots as a (sports) talent representation agency formed by founder Mark McCormack when he agreed a pioneering deal in 1960 to represent US golfer Arnold Palmer, thus arguably kick-starting the recognition of sport as an industry in its own right.
IMG falls under Endeavor's Entertainment & Sports division, which also houses UFC and Professional Bull Riders. The filing says of the division: "Our Entertainment & Sports segment is comprised of businesses that deploy a subset of our integrated capabilities across the entertainment and sports assets and brands that we operate, on either an ownership or representation basis, or to which we provide services.
"We operate and provide services to a diverse portfolio of hundreds of live events annually, including sporting events covering 20 sports across 25 countries, international fashion weeks, art fairs and music, culinary and lifestyle festivals. We own and operate many of these events, including PBR events, Frieze and the Miami Open tennis tournament.
"Through the UFC, the world's premier professional MMA organization, we produce more than 40 live events annually which are broadcast in over 160 countries and territories to more than 1 billion TV households. We also operate other events on behalf of third parties, including The Open Championship, Wimbledon, the AIG Women's British Open and Barcelona ATP.
"We are one of the largest independent global distributors of sports video programming and data. We sell rights globally across 160 territories on behalf of brands including the IOC, Fédération Internationale de Football Association ("FIFA"), the NFL, Major League Soccer ("MLS") and the National Hockey League ("NHL"). Additionally, we own and operate IMG Academy, a leading academic and sports training institution located in Florida.
"We primarily generate revenue across our Entertainment & Sports segment via media rights sales, sponsorships, ticket sales, subscriptions, license fees, data streaming fees, pay-per-view, tuition, profit sharing and commissions."
The filing also cites figures claiming that the global sports media rights industry alone was worth $47 billion in 2017, and is expected to grow to $53 billion by 2021 "due to live sports broadcasts remaining one of the last 'must-watch' live television experiences that attract significant advertising and sponsorship revenue."
Endeavor claimed revenue growth of $222.6 million, or 49.3 per cent, in the Entertainment & Sports segment, for the first three months of this year, compared with the same period last year. However, this figure must be seen in the context of an overall loss of $152.6 million for the quarter.
Entertainment & Sports revenue for the quarter totalled $674,107, the filing says, giving an adjusted EBITDA of $61,777 and an adjusted EBITDA margin of 9.2 per cent.
The filing says: "The growth in our Entertainment & Sports segment is attributable to the sale of media rights, primarily related to major soccer events, as well as growth in UFC, tennis events, sports production and IMG Arena."
IMG Arena, which is based in London, was launched last November as the new entity for IMG's sports betting business, as the agency looked to ramp up its activity in the provision of live streaming and data to betting operators and business-to-consumer brands.
One of its first announcements was a multi-year agreement to exclusively distribute scoring data from golf's PGA Tour to sports media companies, news outlets and betting operators around the world.
IMG Arena distributes sports content, including fastpath data, live streaming and virtual sports, both directly to operators and indirectly through trusted distribution partners that provide trading solutions and software platforms.
It houses the official data business that processes data for more than 45,000 sport events per year and is expanding into sports beyond the tennis and badminton properties that the agency has already been involved with.
All of the sources contacted by Sportcal were critical of IMG for allegedly overpaying for media rights in some recent deals, and all cited IMG's agreement to sell the international rights to Italian soccer's top-tier Serie A from 2018-19 onwards, in a deal worth €366.5 million ($447 million) per season, having replaced MP & Silva, its erstwhile, now-defunct, rival.
Moreover, IMG and fellow agencies B4 Capital and MP & Silva were last month fined a combined total of €67 million ($75 million) for competition abuses in the distribution of international rights to Italian soccer matches.
Beginning in 2008, participation in tenders for the rights was subject to "a restrictive understanding of competition put in place by some operators attributable to MP Silva, IMG, and B4 Capital," the AGCM, Italy's competition regulator, ruled.
The rights affected comprised Serie A, the second-tier Serie B and the Coppa Italia and Italian Supercoppa, the regulator said.
By far the majority of the fine – about €64 million – was imposed on MP & Silva, the agency which held the Serie A international rights over the period. B4 was fined €3.1 million and IMG just €343,645, reflecting in part, it is understood, its willingness to co-operate with the investigation.
One source said: "If they don't get the numbers, anyone doing a due diligence process is going to have real look and say, 'how come they paid double what MP & Silva were paying for Serie A. Is it happening purely to dress the bride?"
Learfield IMG College
The merger of IMG College, the college sports arm of IMG, and college sports specialist Learfield, which was first announced in October 2017, was completed at the end of last year, bolstering Endeavor's financial results with cash proceeds totalling $399.2 million.
Endeavor said it also received 36 per cent of the equity interests of Learfield IMG College, "which was recognized as an equity method investment in the amount of $725.1 million as of December 31, 2018."
It added: "Learfield IMG College provides fully integrated solutions to its collegiate and university partners, including branding, licensing and multimedia rights management; access to professional concessions, ticket sales and fan engagement systems and support; publishing, radio, digital and social expertise; and campus-wide business and sponsorship development."
One senior sports industry source argues that the success of IMG's college business has been partly responsible for "propping up" Endeavor and suggests that the merger with Learfield could lead to "a potential reduction in recurring EBITDA."
Asked why IMG had performed the merger under such circumstances, the source replies: "If you can't beat them join them. It was kill or be killed. They realised Learfield was a sizeable outfit and IMG risked being left in its wake. They might have lost if they'd gone head-to-head with Learfield."
Headquartered in Plano, Texas, Learfield IMG College provides services including: branding, licensing and multimedia rights management; access to professional concessions, ticket sales and fan engagement systems and support; publishing, radio, digital and social expertise; and campus-wide business and sponsorship development.
The merger had appeared to be on the cards ever since the pair jointly launched IMG Learfield Ticket Solutions, a ticket sales company, in 2012.
At the time of the merger, IMG College represented around 90 US universities and college sports conferences, while Learfield sold media and marketing rights for 120 colleges, including the University of Alabama, Penn State, the University of Oklahoma and Texas A&M, as well as conferences such as the Big Ten.
The combined agencies' multimedia management services include sponsorship, media rights and production, licensing, hospitality, signage and stadium seating.
A post-public Endeavor world
One very senior former IMG executive declines to add to the criticism of Endeavor, saying: "There's a ton of debt and also the company doesn't generate cash so far, so it's a fair question to ask, 'How does a company like that go public?'
"But they are backed by Silver Lake [the private equity company that is a major investor in Endeavor] and they're very successful, so it's very possible that Endeavor will be able to go public. But it's not a slam dunk; it's a tough market out there.
"My intelligence tells me they think they're going to go public by the end of the month. If they don't, that tells you something. It will be interesting to watch, and it will be a real testimony to Silver Lake if they can.
"The question is, what will the company look like when it's public? It's [the agency business] kind of lumpy, meaning you can't predict what's going to happen from quarter to quarter. What impact will that have? What does that mean for the sponsors, the clients? What does life look like in a post-public Endeavor world? We all in a way would like them to be successful; if they're not successful, it means challenges for everyone else [in the business]."