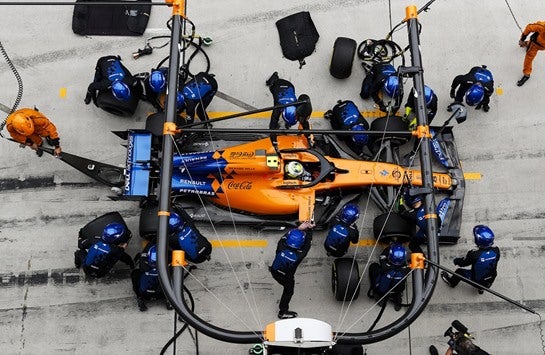 Sustainability. Finally, it's on everyone's agenda. From consumers through to brands and global organisations, there is an expectation that the health of the planet is no longer taken for granted. And the world of sport and entertainment is not exempt. As a global motorsport series held in 21 different countries, Formula 1 (F1) is often cited by its critics as a sport which conflicts with the ambition of a more sustainable future.
However, if you look beyond the simple statements and predictable headlines, you'll find this argument isn't as straightforward as it may seem. In fact, now more than ever, it could be argued that F1 is making a significant contribution to the sustainability agenda.
On the track, aspirated, V8 engines have made way for cleaner, hybrid power units. Powered by a mix of 1.6l internal combustion engines – generating 1,000bhp – and energy recovery systems, F1 cars now complete races with less than 100kg of fuel and operate at over 50% thermal efficiency.
In the hybrid technology race, this places F1 firmly top of the podium with the most efficient racing engines in the world.
That's great for F1 I hear you say, but how does it contribute to wider sustainability? Surely reducing emissions on track is a drop in the ocean compared to F1's overall carbon footprint?
A valid point, but while F1's carbon footprint is still significant, the clean technology developed within the ultra-competitive environment of F1 invariably impacts modern-day sustainable technology. A clear example of this is the technology transfer between F1 and mass-produced hybrid electric vehicles (HEV's). It is widely acknowledged that the developments made through the extensive R&D of F1 teams helps to improve hybrid engines – preventing millions of tonnes of CO2 emissions on roads around the world each year.
Of course, critics will respond that the shift to hybrid technology isn't enough, and that F1 should be running all electric engines if it really wants to help tackle climate change. However, even the most ardent of sceptics would admit that for at least the next 20 years, hybrid engines will need to play a crucial role in developing more sustainable transport solutions.
In fact, a 2018 forecast of the automotive industry by JP Morgan highlights this reality. As the diagram below shows, the report expects HEV's to account for 41% of total automotive sales by 2030. In comparison, battery electric vehicles (BEV's) – with all electric engines – will account for just 18% of sales.
With this in mind, F1's pioneering development of chassis technology and lightweight, composite materials – including polymers and carbon fibres – will become increasingly valuable and relevant to sustainability agendas of auto-manufacturers in the near and medium term.
Today's automotive industry demands stronger, safer structures but also lighter vehicles with better emissions performance. Mainstream automakers are increasingly open to the advantages of carbon fibre as they seek to either take weight out of conventional vehicles or compensate for heavy batteries in hybrids and electric cars. – McLaren Group
Such forecasts present an argument that F1, and the technology which derives from it, is set to influence the development of sustainable transport solutions more so than any other sport in the world. Moreover, the impact of sustainable technology transfer goes far wider than the automotive industry.
Brands and organisations are now leveraging the extensive R&D developments in the sport across a variety of industries. Examples include improvements in energy efficiency in data centres, through to cutting wastage at FMCG production facilities. Hardly at odds with the sustainability agenda, I hear you say.
Beyond sustainable technology applications, both F1 and the teams involved are working hard to reduce the environmental footprint caused directly by the sports operations.
While there is no doubt that F1 as a sport and industry is resource intensive, unlike other industries F1's top brass are quite open about the issues faced by the sport and the work required to make the travelling roadshow more sustainable. As recently as March 2019, Chase Carey, CEO of F1 outlined how efficiency and sustainability is the first strategic priority for the organisation which "will continue to invest in opportunities to further reduce carbon emissions and other initiatives to be at the forefront of technology".
But as with anything, actions always speak louder than words. So if it's actions you're looking for, look no further than the F1 teams themselves.
One of the sport's most prominent teams, McLaren Racing, has been at the vanguard of the move towards sustainability since being awarded The Carbon Trust Standard in 2011. As part of its commitment to a sustainable future, the team's HQ in Woking has increased its recycling of general waste from 46 to 97 per cent and through innovative solutions, saves hundreds of tonnes of CO2 emissions each year. If sustainable image transfer is your motive, then you could do worse than partnering with a highly efficient, high performing carbon-neutral F1 team.
Outside of the world of racing, F1's contribution to the sustainability agenda extends all the way into the classroom as it works to educate future generations to create a more sustainable future. Through its F1 In Schools programme, F1 currently provides the largest and most successful school-based Science, Technology, Engineering and Maths (STEM) programme in the world. The STEM programme educates 20 million aspiring students across 44 countries each year. Inspiring the next generation of scientists and engineers while driving brand affiliation? Few partners can offer that.
Understandably there will still be critics that point out how the F1 roadshow travels tens of thousands of miles a year, racking up some series air miles and emissions as a result. Such criticism is warranted and expected. However, it's important to remember that sustainability is a social movement, not an overnight expectation. And while there is a long way to go, based on the evidence, it would seem the sport of F1 has a vital role to play in delivering a sustainable future.
Part 1 – https://www.sportcal.com/Insight/Sponsorship/126399
Part 2 – https://www.sportcal.com/Insight/Sponsorship/126763
Part 4 – https://www.sportcal.com/Insight/Sponsorship/126889
CSM, part of the Chime Challenger Network, is a global integrated marketing agency working across sport, entertainment, media, lifestyle, innovation, social impact and more. Driven by people pursuing the extraordinary, we build brands, work with properties and create meaningful, memorable and measurable live experiences. www.csm.com