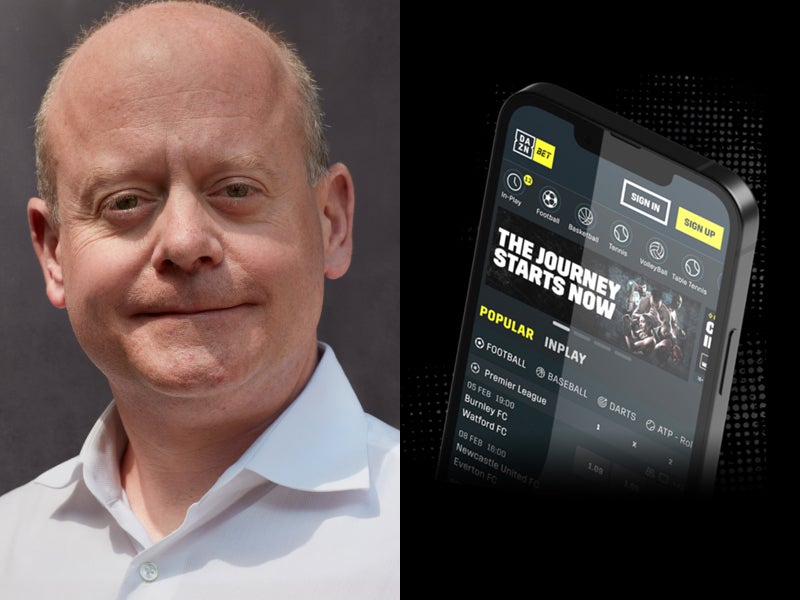 The UK launch of DAZN Group's betting platform in August marked a milestone in the long-term strategy of the international sports media firm.
The company is best known for its subscription streaming service, which has a wealth of rights across a host of sports in more than 200 countries, but Ian Turnbull, DAZN Group's executive vice president (EVP) for new revenues, tells GlobalData Sport that the plan for the platform is to go beyond sports broadcasting as we know it and to integrate new interactive experiences for fans.
"Because we're delivering our broadcast over the internet using a digital platform, we've actually got the opportunity to create very unique experiences that don't really exist today and we think are very much closer to how our target audience consumes entertainment more generally outside of sports," explains Turnbull.
Fundamentally, DAZN wants to give its customers opportunities to be more engaged in sports rather than necessarily be just passive viewers.
Noting that a great deal of young adults' leisure time is now spent playing video games and consuming new, more involved entertainment experiences, Turnbull says: "With what we're putting together at DAZN, the ambition is to create that for sport. Betting is one of those products, but it's not the only product. There will be other products that we want to build into the digital platform to create those experiences."
Evolving ecosystem
DAZN Bet, which has been created in partnership with betting and gaming industry platform and content provider Pragmatic Group, is aimed at being "a more recreational, sociable, and relevant experience" as DAZN seeks to make it accessible to an existing viewing audience much of which may not be experienced in using betting products.
"We're looking to bring a large number of customers into the platform but having a casual betting experience rather than an experience where you have to study the form in a huge amount of detail and understand the complexities of betting," says Turnbull.
The platform is currently a self-standing website, but the long-term plan is to integrate it with DAZN's streaming service, albeit only visible if users opt in.
Among the other products DAZN is working on is an in-play game designed to simply be a fun way for the viewer to interact with the sport they are watching, a matchday experience via which viewers can make predictions, and an e-commerce service that Turnbull hopes will not only offer products that are relevant, personalized, and interesting but that will also improve the watching experience.
Crucially, DAZN sees much of this being implemented with a dual-screen approach.
Turnbull explains: "A lot of customers have told us 'Actually, we don't want an enormous bet slip appearing and obscuring part of the broadcast'. We have to be very mindful of the fact that customers are there because they want to watch their favorite sport, and that's why I think that second-screen experience is going to be really important – and I think the technology lends itself to that."
Elsewhere, DAZN has already dipped its toe in the pool of digital collectibles with the launch of NFT marketplaces for boxing and in Japan for the country's soccer J League.
Interactivity for compactivity
Outlining the reasoning behind this expansion into interactivity, Turnbull says: "We see watching sport as a very celebratory experience – a very enjoyable, high emotion experience – and actually, wouldn't it be great if I can interact with the platform in some way while I'm having that experience?"
This, he believes, is a significant point of differentiation for DAZN from its competitors and is made possible by the fact that its service is purely digital.
"We've got the ability to build these experiences from the ground up," he says. "We don't have a hinterland of linear broadcast to deal with."
To do this, the company has restructured and hired accordingly. Turnbull himself was recruited into the then-newly created role of EVP for betting and gaming last year, bringing with him experience from the likes of cloud services provider Amazon Web Services, gaming platform Microgaming, and sports betting and gaming group Entain.
A restructure announced in January aimed at helping DAZN "realize its ambitious growth and product strategy" gave a firmer hint of the direction it would be taking, while the subsequent hires of Roni Maman as executive vice president of customer success operations and, crucially, Sandeep Tiku as chief technology officer – who Turnbull describes as "one of the best technologists that I've ever worked with" – are central to delivering that strategy.
Like Turnbull, both Maman and Tiku spent time at Entain, and Turnbull explains that their experience in the betting industry provides product expertise that is beneficial beyond DAZN Bet.
"One of the things that betting companies have been very good at is creating those digital platforms and building that capability in a very meaningful way – so, multi-jurisdiction, different products in different jurisdictions, promotional tools, CRM tools, everything integrated into one place.
"I think that is something that the successful betting companies have done very well, and that knowledge of how to build and maintain a digital platform at great scale is something that's incredibly valuable for DAZN."
He adds: "In particular on the technology and product side, we've made some really key hires. That's one of the real battlegrounds for DAZN and I think a real point of difference. If we get the product and technology right and deliver the vision for this multi-product sports experience, that's an absolute point of difference between us and our competitors."
Although DAZN sees few of its competitors focusing so specifically on interactivity, Turnbull says he does see the industry moving in that direction more broadly – again due to the digital foundations on which many platforms are now built.
"The fact that these platforms exist now I think means it's inevitable that there is more convergence, with multiple products and multiple experiences sitting in the same place just for customer convenience as much as anything else."
Tech timeline
The UK launch of DAZN Bet, described by the company as a soft launch, is intended to be used as something of a testing ground for the new platform as it is developed. There is work to be done, for example, on integrating the platform into the over-the-top experience – a key element of the overall strategy.
However, the plan is to roll out the service in a number of other territories in which DAZN operates over the next six months and to build gradually from there. Which territories they will be is still in the process of being decided upon, but some of the major markets in which DAZN has a significant presence include Canada, the US, the DACH region of Germany, Austria, and Switzerland, Italy, and Japan.
"I think from early next year, you'll start to see some of the product integration ideas surfacing," says Turnbull, who adds that the process will be interactive rather than one in which we can expect to see a "big bang launch."
He adds: "One thing to say up front is we're at the start of that journey. There's an awful lot to be done. Just getting to the start line with a betting product is not straightforward because you have to build the product, build the team, get the license – there's a whole bunch of work and that's where we've got to now."
"The key for us over the next 18 months really is to build those integrated experiences for customers that add value to their watching experience."