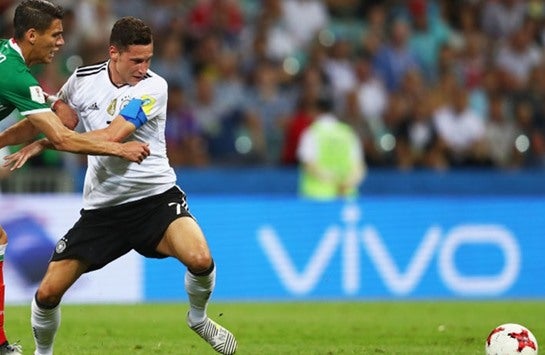 Vivo, the Chinese smartphone manufacturer, is the latest company to sign up as a prominent partner of soccer's showpiece, having in May become a second-tier 'World Cup Sponsor' in a deal covering the 2018 and 2022 tournaments in Russia and Qatar, respectively, and reported to be worth €400 million ($456 million) over six years.
The deal, which came into effect for the recent Confederations Cup in Russia, reflects the desire of the firm, which was only founded in 2009, but is already in the top five in the world in its sector, to permeate beyond its initial markets of China, south-east Asia and India.
Mark Gao, the chief executive of Momentum Sports, the Chinese agency that represents Vivo in its sponsorship deals, tells Sportcal Insight: "Vivo were literally built from scratch and it's time for them to go overseas."
He added: "They already have a global strategy and entertainment and sports is an area in which they will be heavily investing."
Vivo had already shown its ambitions in sport by serving as a partner of the NBA in China and as the title sponsor of the Indian Premier League, the high-profile Twenty20 cricket competition, and has now extended that relationship in a five-year, Rs22-billion ($341-million) deal.
As recently as the 2010 World Cup in South Africa, Fifa had no major sponsors in China (see table below), but Yingli Solar, the solar energy products company, came on board for the last tournament in Brazil three years ago, and the pendulum has now swung distinctly towards that market.
In March 2016, Wanda Group, the Chinese property and entertainment conglomerate that has become increasingly involved in soccer, signed up as a top-tier 'Fifa Partner' in a deal covering the next four World Cups, and, in April of this year, Hisense, one of the country's leading consumer electronics companies, became a second-level sponsor for the 2018 tournament only.
Hisense had announced itself on the international soccer scene by becoming the first Chinese sponsor of the European Championships, for the 2016 edition in France.
While Fifa has long had strong ties with the Far East, reinforced by the 2002 World Cup held in Japan and South Korea, and counts Hyundai-Kia, the Korean car giant, among its main sponsors, China is a relatively new source of income for the federation, a reflection, to some extent, of the country's historic lack of success on the field (that World Cup 15 years ago remains the only one for which it has qualified).
However, with encouragement from Chinese president Xi Jinping, who came to power in 2012, Chinese companies began to spend heavily on the sport, be it on domestic or foreign clubs, international players and media rights, meaning that top-level sponsorship was the next logical step.
Gao says: "It started first of all when president Xi Jinping came into position, as he is an avid football fan. The central government has done a lot to support football as a whole. You've seen a lot of investment in football and basketball and other sports."
Asked whether he can see other Chinese companies becoming involved in the World Cup, Gao says: "I'm pretty sure Fifa will approach other brands to be regional sponsors in this structure. I don't know which brands they are talking to, but this is an opportunity.
"Maybe also at 'Fifa World Cup' level. I don't think there will be more capacity for Chinese brands [at 'Partner' level], but maybe lower than that."
There is also the sense that the financial outlay is paving the way for a Chinese bid to host the men's World Cup for the first time, albeit this will not be before 2030, and changes to the rules will be required before even that is a possibility as, at present, no continent can host more than one tournament in three, and another Asian country, Qatar, is the host in 2022.
Asked whether he believes a World Cup in China is an imminent prospect, Gao says: "We hope so. It's going to be a big decision, not only for Fifa, but for the central government, but we can see it in 2030 or 2034."
Fifa World Cup sponsorship programme
2010
2017
Fifa Partners
Fifa Partners
Adidas
Adidas
Coca-Cola
Coca-Cola
Hyundai-Kia
Hyundai-Kia
Visa
Visa
Sony
Gazprom
Emirates
Qatar Airways
Wanda
Fifa World Cup Sponsors
Fifa World Cup Sponsors
Budweiser
Budweiser
McDonald's
McDonald's
Castrol
Hisense
Continental
Vivo
MTN
Satyam
Source: Sportcal Research
Until the turn of the millennium, the Far East arguably had a stronger relationship with the International Olympic Committee than with Fifa, a legacy of the Olympic Games in Tokyo in 1964 and in Seoul in 1988.
This has been reinforced commercially with consumer electronics giants and TOP sponsors Panasonic and Samsung having been involved in the games since 1984 and 1988, respectively.
The relationship went to a new level with the Beijing Olympics of 2008 when Lenovo was the first Chinese TOP sponsor, although this proved to be a short-term deal, and it was replaced by Taiwanese rival Acer for the 2010 winter Olympics and 2012 summer games.
The fact that the next three Olympics are all in Asian cities – PyeongChang for the 2018 winter Olympics, Tokyo for the 2020 Olympics and Beijing for the 2022 winter Olympics – will have been a significant factor in the IOC landing new sponsors from the region in the shape of Bridgestone, Toyota and the latest entrant in Chinese e-commerce giant Alibaba Group, which this year signed up until 2028.
Alibaba is the official cloud services and e-commerce platform services partner, as well as the founding partner of the Olympic Channel, and expects to create a market of 2 billion consumers for Olympic merchandise by 2020.
Regardless of the locations of forthcoming major events, Gao argues the shift in sponsorship to the east was inevitable given wider economic and sporting trends.
He says: "This is not a surprise as if you look at the Olympic and World Cup sponsors, it was first of all North American and European brands [that dominate], but if you look, there are Japanese and Korean companies, and now Chinese companies, using sport to market and promote themselves internationally."
The Olympic Partner Programme
2008
2017
Atos
Atos
Coca-Cola
Coca-Cola
General Electric
General Electric
Omega
Omega
Panasonic
Panasonic
Samsung
Samsung
Visa
Visa
Johnson & Johnson
Alibaba Group
Kodak
Bridgestone
Lenovo
Dow
Manulife
Intel
McDonald's
Procter & Gamble
Toyota
Source: Sportcal Research